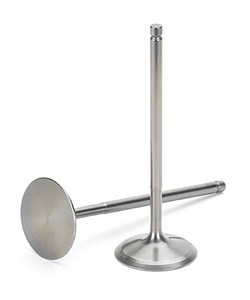 Titanium Exhaust Valves for 1997-2016 Nissan Patrol TB48 24v 4.8L Engines

NEVT-3740F
Head Diam: 34.80mm (+1.5mm)
Stem Diam: 6.95mm
Length: 98.30mm
Material: Titanium
Groove Type: Single Groove
Valve Type: Exhaust
Face: Flat

*Single Valves Are Also Available In The Drop Down Menu Below*

Our one piece forged high temperature titanium alloys are used when light weight valves are of relevance to achieve very high RPM's. These valves are recommended for professionally built high rpm racing engines. When matched with Supertech keepers (locks, cotters) and spring retainers you can use a more aggressive cam profile without the loss of valve control. This results in a broader torque curve with an increase in horsepower at higher RPM equaling more power.