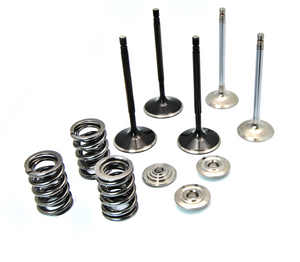 Master Valvetrain Package for 2000-2006 Mini Cooper S Supercharged 1.6L Engines (Beehive Springs) Valve Spring Kit
SPRK-HM1007BE/MC2
Type: Beehive Spring
Press.Seat: 75lbs @ 39mm
Max Lift: 16.20mm
Coil Bind: 22.80mm
Rate: 12.80mm
Retainer: RET-M65/TBE
Spring: SPR-HM1007BE-MC
Seat Locator: SEAT-SS2717-2 + OEM Seat Locator
Keepers (Locks):
Single Groove Will Include KPR-6T-ST
Intake Valves
Head Diam: 30.70mm (+0.5mm) or 32.00mm (+1.8mm)
Stem Diam: 5.94mm
Length: 109.58mm
Material: Black Nitride
Groove Type: Single 
Type: Intake Quantity: 8
Exhaust Valves
Head Diam: 24.20mm (+1.0mm) or 25.50mm (+2.3mm)
Stem Diam: 5.92mm
Length: 118.37mm
Material: Inconel
Groove Type: Single
Type: Exhaust Quantity: 8
Includes: 16 Valves, 16 Beehive Valve Springs, 16 Seat Locators, 16 Titanium Retainers, and 32 Single Groove Keepers
Our valve springs are computer designed to ensure that wire stress levels do not overpass the limits of stress defined in the diagrams of fatigue. We also utilize computer software that allows us to ensure that the harmonics are under control. All Supertech valve springs are made with premium super clean Chrome Silicon Vanadium Steel alloy for higher performance & durability at high rpms. Using high quality steel alloy also provides the added benefit of better structural memory for all of our springs, giving your performance racing engine a serious competitive advantage.
Supertech retainers are manufactured with high quality military certified Titanium alloy, and are CNC machined for a tight fit. Our high quality retainers are among the best in the industry.
Our stainless steel intake valves are manufactured from an enhanced version of EV8 (21-4N) steel. We have chosen this material specifically because it's the highest grade of steel available and provides the strength to withstand just about any application. Our exhaust valves are made from EV16 (21-8N) or EV8-Nb/w for even greater strength at higher temperatures. Our stainless steel valves are one piece forged valves, and depending on the application feature hardened tips, hardened seats, swirl polish, undercut, and our black nitride coating. Our black nitride coated valves feature a harder surface area and a smoother finish, providing less friction and subsequently longer life.
Supertech manufactures a variety of high performance Inconel valves for many applications. These valves are manufactured from a Nickel base super alloy material (Inconel 751 or Nimonic 80A) this material is chosen because it is designed to withstand very high temperatures. These valves feature a one-piece forging, hardened tip, and our "superfinish" stem. Our Inconel valves are extremely popular choice for turbo and supercharged applications.