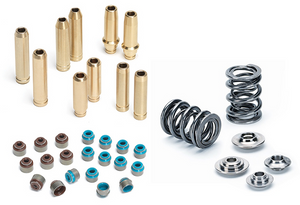 Dual Valve Spring and Titanium Retainer Kit for Toyota Supra 7MGTE 24v Turbocharged Engines

Set of 24 Dual Valve Springs, 24 Titanium Retainers, Seats, Valve Guides & Seals

SPRK-TC25D/24
Type: Dual Spring
Outer Spring: OD 25.00mm - ID 18.00mm
Inner Spring: OD 18.00mm - ID 13.00mm
Press.Seat: 67lbs @ 36.00mm
Max Lift: 14.40mm
Coil Bind: 21.00mm 17.00mm
Rate: 12.60mm
Retainer: RET-2500/T1
Spring: SPR-TC25D
Seat: SS-3012
Valve Guides: GDE-4AGE-SM (Required)
Valve Seals: VS-T6SM (Required)

Our valve springs are computer designed to ensure that wire stress levels do not overpass the limits of stress defined in the diagrams of fatigue. We also utilize computer software that allows us to ensure that the harmonics are under control. All Supertech valve springs are made with premium super clean Chrome Silicon Vanadium Steel alloy for higher performance & durability at high rpms. Using high quality steel alloy also provides the added benefit of better structural memory for all of our springs, giving your performance racing engine a serious competitive advantage.

Supertech retainers are manufactured with high quality military certified Titanium alloy, and are CNC machined for a tight fit. Our high quality retainers are among the best in the industry.